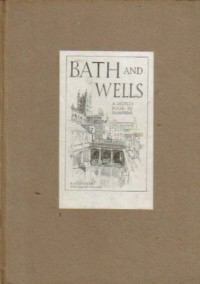 Anyone who has been reading my waffling about books for long enough and paying attention will have noted that I am madly in love with the City of Bath. (Such people should, of course question not only my sanity but their own; why are you paying attention to my drivelling???)
My purchase of this book is a clear symptom of this infatuation which has been going on for more than twenty years with no sign of abating but also a good illustration (do puns get any worse than this?) of the reason for it. D.S. Andrews, back circa 1919, did a collection of pencil, or possibly ink, sketches of Bath and Wells that were published in 1920 as part of a series of such sketchbooks of famous towns and cities of Britain. The series was reprinted for the first time since then, last decade. These sketches are top quality faithful reproductions of the scenes they illustrate.
Bath Abbey from the Roman Baths
They show spectacular architecture in the complete range of scales from architectural detail to street scene to cityscape and many of them are not merely readily identifiable now but barely changed in the intervening 90 years or so.
Just another church in Bath...
This justly famous architecture is the principle reason why Bath is second only to London as a tourist destination for foreign visitors. It is truly glorious and the primary economic support of the city. Yes, the buildings of the city are the primary reason the city still exists - if the renovations of the 1970s and 80s had not occurred Bath would be a wrecked slum not worth a passing thought by now.
Bath street scene: The Cross Bath, centre. Yes, you can go and bathe inside that building.
The purpose of Bath is its own material existence. I find this slightly odd to contemplate. Think about it; the purpose of London is national capital, cultural centre, financial centre etc, the purpose of Bristol is industrial, the purpose of Boston/Cambridge, NH, is higher education and research etc. The purpose of Bath is to be Bath. And this is encapsulated in this little, lovely book.
A minor detail on a minor Bath Georgian/Palladian building: superior to the best some entire cities can offer...
There are also sketches of Wells, England's smallest city, a lovely place, dominated by the Cathedral, which is sufficient to make the place worth visiting on its own. It's also the setting for the film Hot Fuzz, the Director of which, grew up there.
Wells Cathedral, interior.
Wells Cathedral, ceiling detail
Wells Cathedral Garden
So anyway, visit Bath and Wells; they're gorgeous and if you can't, buy this book instead, it's cheap and will give you a good sense of what you're missing.